02/26/2020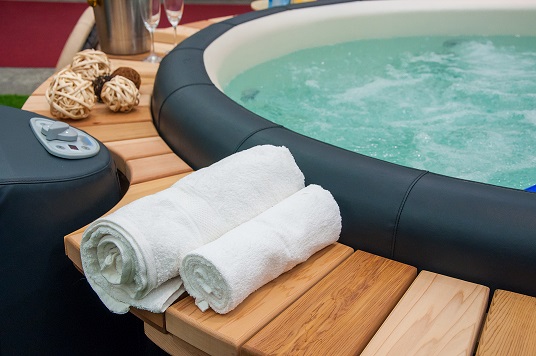 Here at Dorian Construction, we go bold. For some homeowners, their backyard is a blank canvas full of possibilities to consider. Aside from beautiful structures like fire pits and landscaping, we have completely revitalized backyard spaces with the correct body of water. Some of these include the wonderful world of pools, spools, and jacuzzi. These additions will not only add comfort and luxury to your backyard but they will also add the option for some healthy activities and relaxing spa moments. Lets take a look at some of what we could add and how they can impact your life.
Jacuzzis From Health Benefits to Date Night
We might think of the hot tubs as a place to go simply to relax and have a glass of wine after a stressful day at work. Interestingly enough, the jacuzzi was invented for a child that was born with rheumatoid arthritis. Little Kenny suffered from the condition which prompted his fatherItalian immigrant Candido Jacuzzi to invent underwater jet streams to help his son. Jacuzzi invented a pump that would cause a whirlpool with the intention of making it a hydrotherapeutic device. He filled the first patent for the jacuzzi in 1964.
Today, the health benefits of this invention continue to be a big draw for people looking to install them in their backyards. The most common include:
Range of motion:

People begin to lose range of motion for a variety of reasons. This might be due to age, injuries, surgeries, or a sedentary lifestyle. With regular use, a hot tub can help restore some mobility in the places where weve lost more mobility. The underwater streams and heat create hydrostatic pressure, which reduces joint inflammation.

Arthritis relief:

This condition, as well as rheumatoid arthritis, was the main reason for the invention of the hot tub in the first place.

Relief from exhaustion:

Long days at the office or shifts at the hospital prove to cause wear and tear on our bodies.

Certain conditions like fibromyalgia cause people to feel fatigued and tired throughout the day. Hydrotherapy treatment has been proven to help people with physical functionality, better sleep, and improved mood.
In addition to the health and physical benefits a hot tub offers, there is another aspect that also makes it a desirable component of any home: its a great way to bring people together. A jacuzzi creates wonderful intimate moments between friends and loved ones. When the weather is cool outside, sitting at the jacuzzi can bring people and families together for a moment of relaxation and conversation.
Spools From Work Out to Relaxation Mode
Perhaps a well-kept secret or perhaps the lesser-known of the water landscaping possibilities is the beloved spool. The word is you guessed it a portmanteau or combination of pool and spa. The spool is typically longer in length than a regular spa but smaller than an in-ground pool. It also has underwater jets and other elements of the spa that make it the perfect fit for those that are trying to conserve some space but would like to use their spool for a little exercise as well. Here are a couple of spool possibilities:
Temperature flexibility
You can maintain it in cooler temperatures like a pool or heat it up in the evenings or when it gets cold and have it serve like a jacuzzi. The spool then becomes the best of both worlds, in a way. As the weather changes outside, you can also use this to your advantage. Have it stay cooler in the summer and warmer in the winter.
Good for Working Out
There is also enough room for exercise. Because a spool is typically bigger than your regular hot tub, many people use it for getting in their morning or evening workout. The powerful jets that come with typical spools, can serve as a good current to swim against. This means you dont need an Olympic size pool to get a little resistance and take your workout to the next level.
So when is a spool the right choice for me?
If youre trying to figure out whether you should install a jacuzzi or spool in your backyard, here are a couple of things to consider.
Are you short on space? A spool is a great space saver, as it also offers some more swimming room.

Youre looking for versatility. A spool offers the option of temperature choice. So you can keep it cold or warm, depending on what you want to use it for on any given day or week or month. This offers great versatility and may work well if you have kids that want to splash around during the day and you want the warmth of a hot tub at night.

You want something that can be used year-round. Because El Paso winters are not particularly harsh, the spool can be kept open year-round and used as a hot tub in those colder months.

An aesthetically pleasing feature. When in use and when not in use, a spool has a different aesthetic appeal and can be combined with some smart landscaping and cool designs to make it an appealing part of your backyard transformation.
Get Backyard Transformations That Serve You and Look Great
The idea behind backyard landscaping and installing design and features like jacuzzis and spools is to enhance your living space. Our goal at Dorian Construction is to make your backyard as your own special hideaway or place of comfort. You want it to speak to your lifestyle and your tastes. So whether you decide on a jacuzzi or a spool, we make sure that you are satisfied with your new installation and backyard transformation.